Capoeira is an Afro-Brazilian martial art and dance form that incorporates rhythm, coordinated call and response movements, strength, flexibility, singing, and percussion instruments. All levels of physical fitness are welcome. The uniqueness of Capoeira will give your body physical strength, power and flexibility and your mind self-confidence, concentration, courage and creativity.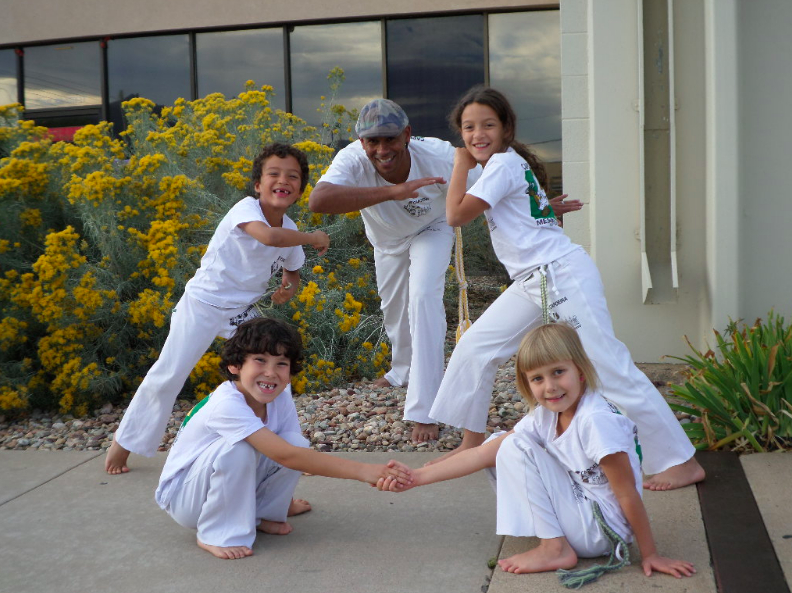 KIDS SUMMER CLASS FIRST SESSION (Grades 2-6)
– Jun 5-8, Mon- Thurs, 2pm – 5pm
– July  10-13, Mon- Thurs, 9am – 12pm
Location: Willow Farm Park, 901 Fordham, Longmont. CO
Fee: $150 Resident/ $180 no-resident
Sign up at www.rec.ci.longmont.co.us
KIDS SUMMER CLASS SECOND SESSION (Grades 2-6)
– Jun26th – Jun29th, 9am – 12pm
– Jul 24th – Jul 27th, 9am – 12pm
Location: Friends School Boulder, 5465 Pennsylvania Ave, Boulder, CO 80303
Fee: $142.50
Sign up at https://friendsschoolboulder.configio.com/ShoppingCart.aspx
Additional Information: Come prepared to train. Clothes should be loose, comfortable, and make you want to move. Pants, shorts, and shirts. No skirts or dresses please.
Instructor: Mestre Lucas Corvo
Mestre Lucas Corvo, Luiz Carlos Assunção Silva, is from Eunapolis, Bahia and has been playing capoeira for almost three decades. Over that time he has traversed much of Brazil, three countries and two continents. Mestre Lucas started formally training in capoeira when he met a capoeirista named Moezeis at the age of nine.